by Emily Lloyd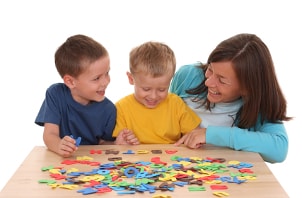 Finding the right
kinds of toys for your child, whether it's his or her birthday or some other special occasion, can be tricky. There are so many
toys and hobbies
available today that choosing one can sometimes feel like hit and miss. Kids' talents and hobbies are diverse, but a few simple observations can help you find the perfect toy for your son or daughter. Keep reading for tips on finding the best kids' toy for your child.
Choosing the Best Kids' Toys:

Take a look at what your child already plays with.

Take a quick peek into your child's bedroom or playroom to find out if your son or daughter has a favorite type of toy, hobby, game or sport. Does she prefer stuffed animals or building blocks? Does he prefer toys that are easily collectible like trading cards or action figures? Consider buying items that are similar to his or her favorite toy. Buy a couple of additional action figures that will complete an already existing set. If your son or daughter enjoys building blocks, then look for an expansion pack that would complement the blocks they already own.

Take your child's age into consideration.

Age plays a huge role when choosing the right kids' toy or hobby. Older children can handle toys and hobbies with small or removable pieces, but those same pieces might be a danger for younger children. A sophisticated electronic game might be perfect for your older children but cause frustration for younger players. An older child might not like to play with soft and cuddly stuffed animals anymore while his or her younger siblings love them. Make sure the toy you buy for your son or daughter is age appropriate.

Think about what your child likes to do.

Considering what your sons and daughters like to do in their spare time will help you narrow down the type of toys they might like to own. When given a choice, does your son or daughter enjoy playing indoors or outdoors? If your son or daughter enjoys playing outdoor sports, then outdoor game equipment like basketballs, baseballs or bikes would be the best choice. Some examples of indoor toys would include electronic games, board games, puzzles and models.

Ask them.

Sometimes just asking them is the best way of finding out the best toy to buy them. Your children may be ready to try something new.